Hi hi!
Well, I have a BUNCH of dragon art tonight, all of it original! A small 6" x 4" painting, and a series of four (larger) 8.5" x 11" pieces, all beastly! I also have a half off sale running right now in BOTH of my etsy shops, and a variety of art auctions running on eBay!

First, I'd like to start off with my new short series of dragon illustrations- these four originals are inspired by face cards. I mean, you have the king, the queen, the jack...even a joker. But no dragon? WTF?! Well, I fixed that...Below are the four original illustrations- you can see them all by following the link below the picture:



Dragon Playing Card suits fantasy illustrations on etsy
**These are currently 50% off when you use the code POINT5 at checkout!! Until July 7th!

So, yes, I am holding a one day sale in BOTH of my etsy shops- 50% off coupon code to both of my etsy shops! Use the code POINT5 at checkout at either zombietoes.etsy.com or darklingemily.etsy.com to receive the discount, which covers all items...code is good until July 7th!

Now, onto eBay fun! I have a brand new original dragon painting listed for auction right now- "Reflection" is a little 6" x 4" acrylic painting on a sheet of artist canvas. He's a curious one...Up for auction with a starting bid of just $15! All the info and more details about the art are at the listing link below the picture: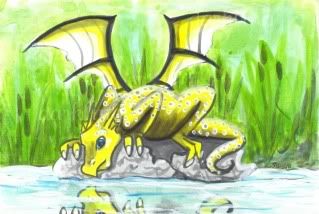 "Reflection" dragon fantasy painting
In addition to the new piece, I have some older original paintings up for auction, as well as a lot of 99 cent ACEO prints and a few original ACEO illustrations too! To see everything I have available, just click HERE!

I have no idea what I am working on next...other than a few commission pieces. I have this long, thin canvas, it is 8" x 24" I believe...and I was thinking about painting a mermaid on it. I really would love to do a large color version of my old "Tailored Scales" pen and ink illustration...This is the one I am talking about:



...but I need to come up with a background idea and a color scheme. And part of me is a little bit jaded over the idea of just a plain old mermaid...so I might have to weird her out a little more...Hmmm...off to ponder on this and other lady creatures, I'm sure.
xo!
Em
Visit my website- tons of images available as art prints and posters: darklingtreasures.com
Loads of fun stuff- T shirts, stickers, mugs, stationery, bags, buttons, and more in my Zazzle Shop!