Hello Fae Friends! Greetings from Gossamer Glen!
The faeries have been busy working on a new project! And now they are delighted to announce the launch of their new product line! The Faeries of Gossamer Glen are now appearing on designer bags...handbags, purses, totes, makeup bags and more! These high quality durable microfiber bags are as beautiful as they are functional and fun! Please view all of our different styles and designs here...
www.gossamerglen.com/gossamer%20glen/bag...
Each bag is custom created at time of order, so please allow 3-4 weeks for delivery, just to be safe. New designs and styles of bags will continue to be added, so check back often! If you have any questions, please don't hesitate to ask. The faeries are always happy to help!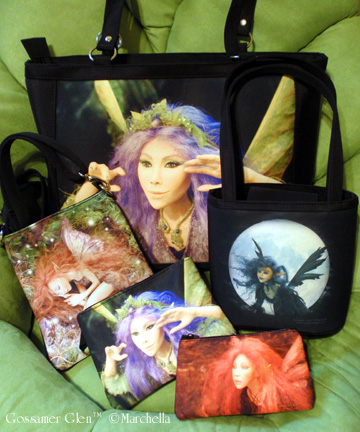 Wishing you a beautiful Autumn and Spring...whichever is touching your corner of the world!
Love, Light and Faerie Blessings,
Marchella
Gossamer Glen, Enchanting Designs for Faerie Fanciers
Original One of a Kind Faerie Creations
www.gossamerglen.com
---
Feature in Imagine Magazine
Sept. 23, 2009
There is excitement in the Glen! The faeries are aflutter! We are delighted to be featured in the new issue of Imagine Magazine!
Imagine Magazine caters to Artists, Photographers, Music, Screenwriters and Gifted souls. It is currently an online, quarterly publication featuring the crème de la crème in Art and Photography, but watch for it to be in print in the future! Imagine Magazine will keep you up to date with today's leading artists and what has made them great, while bringing you informative interviews and articles that will fill your need for more knowledge regarding the talented minds who inspire us all...
Read our exclusive interview here...
soulfulpen.com/Imagine/gossamer-glen/
---
Feature in Faerie Magazine
February 12, 2009
Greetings Friends of the Fae!
Magical happenings abound in the Glen! The faeries are thrilled to be featured in the Winter 2008 Issue of Faerie Magazine. Many thanks to the lovely fae folk there, especially Mariam George, for their kind words and this gorgeous publication dedicated to all that is beautiful in the world of faerie. It is now available at Borders, Barnes and Noble and fine bookstores everywhere.
Subscriptions and single issues are also available from www.faeriemagazine.com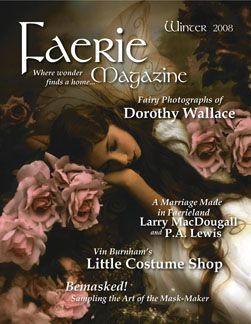 ---
Feature in FAE - Faeries and Enchantment Magazine
November 1, 2008
We are delighted to announce that The Faeries of Gossamer Glen are featured in the Winter 2008 Issue of FAE - Faeries and Enchantment Magazine. Now available at www.thefaeryshop.co.uk/faemagazineWINTER...
Many thanks to our friends across the faerie pond!